Mastercard
Global Payment Mastercard
The Global Payment Mastercard offers you the convenience, flexibility and worldwide global acceptance of a traditional Mastercard credit card.  Global Payment Mastercard can be used anywhere Mastercard is accepted including shopping online, and accessing cash at an ATM.  But, unlike the traditional Mastercard credit card, the funds are automatically moved from your credit union account to pay off the balance after the transaction is completed.  Global Payment Mastercard is a convenient extension of your account and is only available through your credit union.
Click here for product features.
Collabria Mastercard® Credit Card
Lafleche C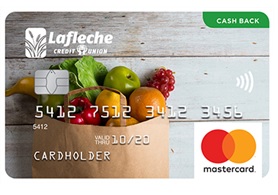 redit Union is pleased to offer Collabria Mastercard credit cards to our members. Members can choose from 8 personal credit cards and 3 business cards, allowing you the flexibility to pick the card that best fits your needs.
Personal Cards
LCU Collabria Cash Back Mastercard
LCU Collabria FlexRate Mastercard
LCU Collabria Centra Gold Mastercard
LCU Collabria Student Mastercard
LCU Collabria Classic Mastercard
LCU Collabria World Mastercard
LCU Collabria Travel Rewards Gold Mastercard
LCU Collabria US Dollar Mastercard
Business Cards
LCU Collabria No Fee Cash Back Business Mastercard
LCU Collabria Low Rate Business Mastercard
LCU Collabria Platinum Business Mastercard
For more details on the cards, benefits, card holder support and how to apply, visit  Collabria Credit Cards , call 1-855-341-4643 or visit your local branch.
Once you receive your MasterCard, you can access your account information through My Card Info . Through this secure login you will have access to check current balances, review recent activities, verify previous payments, make a payment, view eStatements and more.