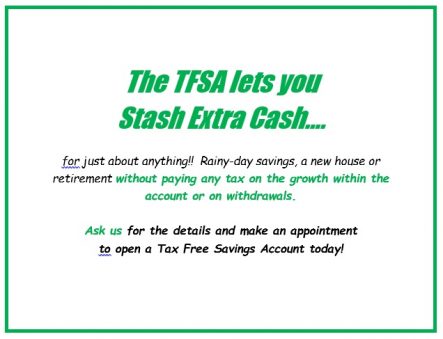 The TFSA lets you Stash Extra Cash….
for just about anything!! Rainy-day savings, a new house or retirement without paying any tax on the growth within the account or on withdrawals.
Save without penalty– Finally, you can save without being penalized. Capital gains and other investment income earned in a TFSA will not be taxed and       withdrawals will be tax-free. You can carry unused   contribution room forward to the following year and withdrawals from a TFSA will create contribution room for the next year.
Not an RRSP- A TFSA differs from an RRSP in a couple of ways:
RRSP contributions are tax-deductible, while TFSA contributions are made with after tax income and are not deductible.
RRSP contributions and investment earnings are taxable upon withdrawal, but TFSA contributions and investment earnings are exempt from tax upon withdrawal.
Unlike RRSP contribution limits, TFSA contribution limits are not determined by your income.
The Tax-Free Savings Account (TFSA) dollar limit for 2020 is $6,000.00 and there is NO deadline for making a TFSA Contribution. You must be at least 18 years old and resident of Canada to open a TFSA. So why wait? Open your very own tax-free savings account today!
| | | |
| --- | --- | --- |
| Years | TFSA Annual Limit | Cumulative Total |
| 2009-2012 | $5,000 | $20,000 |
| 2013-2014 | $5,500 | $31,000 |
| 2015 | $10,000 | $41,000 |
| 2016-2018 | $5,500 | $57,500 |
| 2019-2020 | $6,000 | $69,500 |
Ask us for the details and make an appointment to open a Tax Free Savings Account today