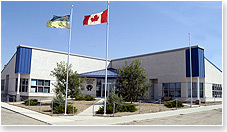 LAFLECHE CU SHARES PROFITS WITH MEMBERS!
The Board of Directors have approved to issue a Patronage payment totaling $350,000 to eligible members.  The payment is based on a 12% rebate of eligible loan and LOC interest paid, and a 12% bonus on eligible deposit interest received by members (excluding registered products).  Over the past 20 years Lafleche Credit Union has returned close to $3 million to members to recognize their loyalty and support.  50% of this year's rebate will be credited to Member Equity and the other 50% will be automatically deposited to member accounts.
Please join us at our Member Appreciation and Patronage Day Lunch in Glentworth June 24th and Lafleche June 25 from 11:00 to 1:30.