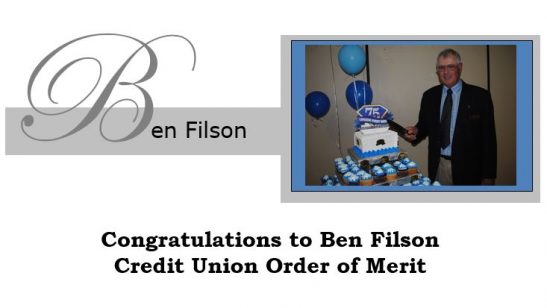 Lafleche Credit Union would like to recognize Ben Filson for his dedication to the credit union system.
Ben served two terms as a director of the Lafleche Credit Union, from 1997-2004 and 2013-2015. He also spent nine years, from 2004-2013, as president and graduated from the Credit Union Director Achievement (CUDA) program.
Alongside his work with the credit union, Ben also contributed to the community as a volunteer, serving as a Councillor for the RM of Wood River for 12 years, Director for the Woodrow Co-operative Association for 12 years, Director for the Saskatchewan Wheat Pool in Woodrow for 25 years and President of the Woodrow Recreation Board. He has served as a member of the Lafleche Hospital and Assiniboia & Gravelbourg Ambulance Boards.
Ben is also, simply put, just wonderful to be around. He showed off his great personality when he skipped the Lafleche Credit Union to a two time championship at the Annual CUMA Curling Bonspiel and was the life of the party at the celebration!
Ben and his wife Sandra have two daughters, Jennifer and Leah and one son Erin. They currently reside at Thomson Lake.