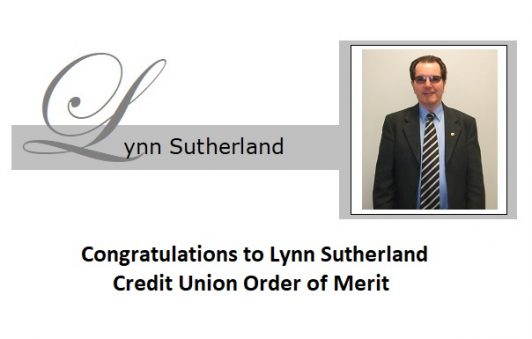 Lafleche Credit Union would like to recognize Lynn Sutherland for his dedication to the credit union system.
Lynn first served on the Board of Directors for a three-year term from 1994 to 1997, and then joined the Board for a second three-year term as president from 2017 to 2020.
During his time as Director, Lynn sat on numerous sub committees, including ARCO and the Executive Committee. Lynn also took part in the Credit Union Director's Achievement Program – completing Level A and two classes of Level C, Governing Credit Risk and Role of Audit Committee.
In addition to his work with the Credit Union, Lynn has a strong commitment to community involvement, having served on many committees and Boards in Lafleche. These include the Royal Canadian Legion, where he has been a member for over 40 years, and President since 2008 (making him the longest-serving president of the Lafleche branch); the Lafleche Lions Club, where he has been a member for the past 30 years and held roles as Treasurer, Curling Chairman, and Music Chairman – organizing the Lions Carol Festival for over 20 years; The Lafleche Curling Rink, as a dedicated member for 40 years and Treasurer for approximately a decade, and the Lafleche Chamber of Commerce as an active member until it dissolved.
Prior to recently retiring, Lynn was a farmer and an accountant. He has his CPA designation and operated Sutherland Accounting for over 38 years. Through his work and community leadership, he has earned a reputation as a substantial pillar in the community of Lafleche.
Lynn and his wife Debbie live in Lafleche and had three adult children – Michael, Gina and Kyla, and six grandchildren.