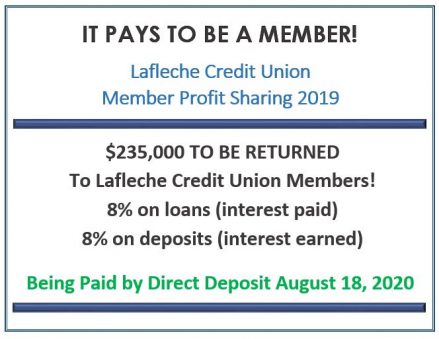 The Board of Directors have approved to issue a Patronage Dividend payment totalling $235,000 to eligilbe members. The payment is based on a 8% rebate of eligible loans and line of credit interest paid, and a 8% bonus on eligible deposit interest received by members (excluding registered products), based on the year ending December 31, 2019. Over the past 20 years Lafleche Credit Union has returned over $2.7 million to members to recognize their loyalty and support. 50% pf this year's rebate will be credited t Member Equity and the other 50% will be automatically deposited to members accounts.
2019 Patronage Payment Description Error
Our 2019 Patronage Payment was posted today (Aug 18) with an incorrect year in the description: " 2018 Patronage Payment"- the description should have said:  "2019 Patronage Payment". 
We apologize for the error. If you have any questions, please contact one of our branches.