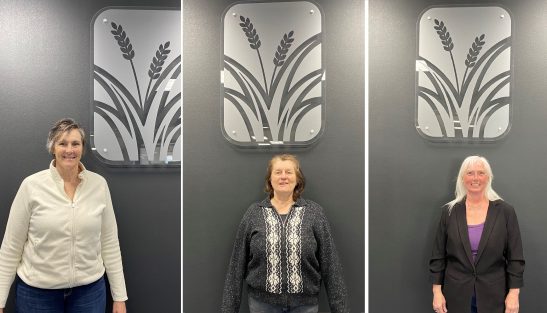 Congratulations to Dawn Mitchell and Marge Clark for 6 years of service to the Lafleche Credit Union Board of Directors!
Dawn will be continuing on with our board team.
Marge will be leaving our board of directors and also leaving our community of Glentworth. Marge and her husband, Rod, will be moving to Osler.
Welcome to our new board member, Bren Keenan. Bren was born in the Kindersley area back when farms were small and the community co-operatives were finding their place in the fabric of the Saskatchewan identity. It was a great grounding for Bren's working years. From the late 70s until retirement in 2005, Bren provided bookkeeping and office services to small clients who couldn't afford large staff and services. She taught computer technology and software at B.C. Institute of Technology and as well as teaching Vancouver Adult Learning software programs. Bren has served on the boards of several charity and non-profit organizations in Vancouver and Lafleche. Returning to Saskatchewan, she retired and now enjoys the odd days in The Studio (no sales just therapeutic art projects). Bren is thrilled to be on the Lafleche CU Board of Directors representing our community members.